Mosaic Classes
Made by Susana in our Mosaic Taster Class
Made by Betsy in our Jewelry Workshop
Made by Kelly in our Mosaic Art Design Class
Heart
Whale
Made by Jesse
Sun
Made by Erika
Sunset
Made by Moira
Bird
Made by Jen
Made by Nick
Desert
Cactus
Made by Lisa
Kayak
Made by Karin
Join us for this one-time 2 1/2 hour class that will give you a taste of mosaic art--this is perfect for someone wishing to explore this exciting art form. This class is geared to adults - children 12 years and older are welcome if they are comfortable staying focused for 2 to 3 hours. Once you try it you will be hooked!! In this class you will make a 4 1/2" by 4 1/2" tile/trivet and learn the basics of cutting, color, grouting, and design techniques as well as a brief history of mosaics. Just come to class with an open mind ready to create, design your own or use one of our suggested designs!
COST: $45

Classes have been paused until further notice.
​
NEW ON LINE CLASS
Learn the ancient art of mosaics!! In this ONLINE five-week session you will create a beautiful 8" by 10" mosaic art panel. This is a very structured, hands-on class in which you will design your own art panel. Instruction will cover in-depth design techniques, andamento, opus, color, materials, history of mosaics, adhesives, mosaic bases, tools, and cutting techniques. This class is great for both beginners and more experienced students who would like a more in-depth exploration of this fine art! This class can be taken more than one time, we learn from each other each time the class is offered.
​
Class #1 - in depth slide show and preparation for choosing a mosaic design.
Class #2 - review of class designs and instruction on how to transfer your design to your substrate.
Class #3, #4, and #5 - check in each week to review "work in progress" (WIP) pictures.
​
This class has a tiered fee structure -
​
Pay $135 if you live far away and cannot pick up your supplies at Mosaic Oasis, once you sign up you will recieve a supply list of everything you will need and you purchase the required materials (or you may have them in your own stash of mosaic stuff).
​
Pay $165 includes all materials you need, you will pick these up at Mosaic Oasis before class #2.
​
Pay $190 includes all the materials you need plus a tool pack (nippers & tweezers), if after the class you decide you do not want the tools I will buy them back from you. To be picked up at Mosaic Oasis before class #2.
African landscape by Joan
Nantucket View by Carol
Book shelf by Candace
Desert view by Lanora
Made by Adam
Old Puerto Rico
Made by Jen
Mt Hood Vineyard
By Eleanor
Blarney Castle
By Pam
Seaside
By Lori
The Farm
By Lisa
Wyoming
By Cathy
Jewelry Samples
Earrings
Made by Betsy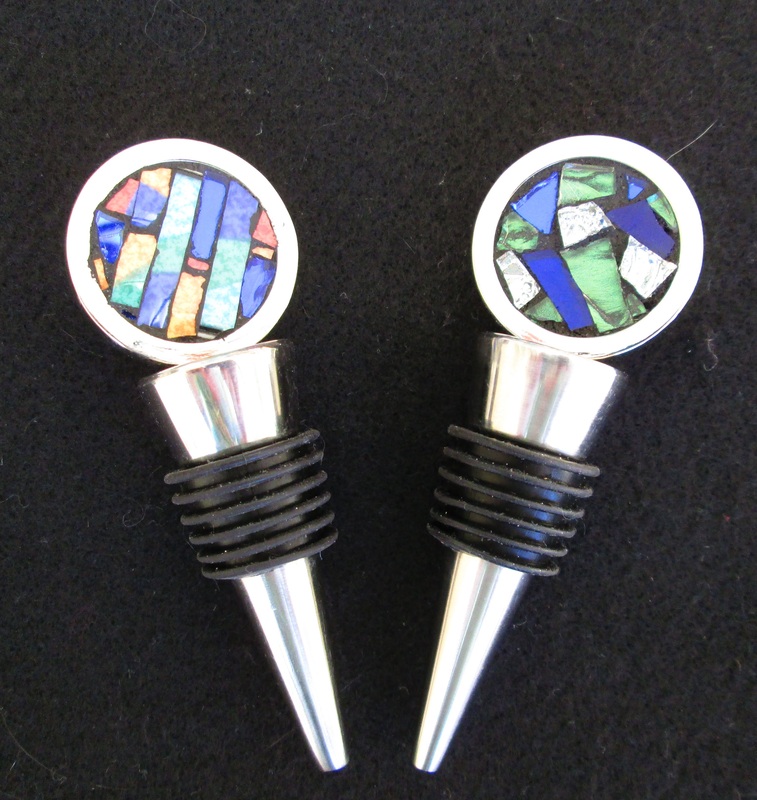 Bottle Stoppers
Made by Betsy
Jewelry Findings
The first Friday of each month is reserved for making mosaic jewelry. In one evening, you can walk out wearing a new pair of earrings and a pendant. In addition to earring and pendant findings, we also carry earrings, pendants, key chains, bottle stoppers, cabinet pulls, and more. Come and try your hand at designing your own jewelry!
​
$40 for one piece and $70 for two!!
This class has been paused until further notice.
Mosaic Gazing Ball by Linda!
Spring is the time for gardens, create your own beautiful garden ornament! Mosaic gazing balls are a great way to add a burst of color and interest to your garden. You will design a beautiful six-inch gazing ball for use outdoors. Instruction includes choosing materials, design, cutting glass, and grouting. Class is offered on Mondays with an open date for you to grout your ball at your convenience. The cost of all materials is included in tuition.
Dates: This class has been paused until further notice.
Cost: $150
Mosaic Collage Using Tempered Glass
Preserve your "paper" memories under beautiful glass! In this class you will make a paper collage using items (cards, ticket stubs, pictures, ribbon, glitter, whatever you like) that are personal to you as well as materials we have gathered, to make an 8 x 10" or 8 x 8" art piece. After you cover your board with your paper design, you will cover it with clear glass and "crash" (tempered) glass, as well as other materials we have in the studio. This gives your design a beautiful shimmery and jewel like quality. This class is great for the first time mosaic artist as well as a new technique for long time mosaic artists!
Three Monday nights, TBD
Cost: $150, includes all materials and a frame for your finished piece.